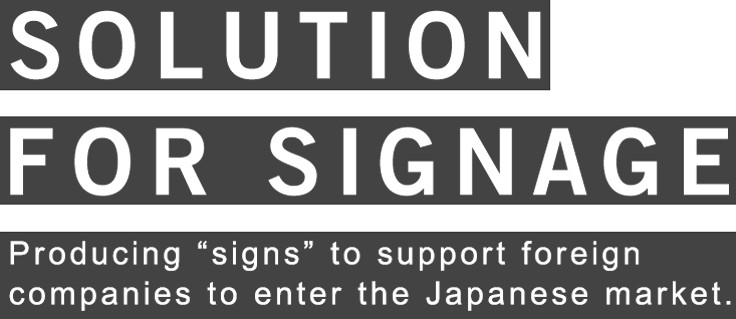 Sanyo Koubo offers a comprehensive production service, from the design of signs and
billboards, through to fabrication, installation, management, and follow-up.
Our strength is making use of all our accumulated expertise and experience, as well as
our Japanese and international networks, and coming up with the best sign for your
needs and offering you compelling proposals.
The work of producing signs is never the same.
We tackle every assignment and every theme seriously, to create the most effective
sign in close collaboration with our customers.
With this approach we continue to challenge ourselves in all our work.
One of our specialties is producing signs for foreign companies planning to expand
retail chain stores in Japan.
We are well equipped to support your specific challenges and requirements, e.g.,
by dealing with Japan's unique legal issues and securing a production base for your signs.
WORKS
Taking advantage of our extensive network, we can support your needs anywhere in Japan.
We propose optimized plans to suit the specific needs and budgets of our customers.
We offer a streamlined production process that extends to maintenance and follow-up services,
and all our work is done in strict compliance with all safety and legal regulations.
A broad, diverse range of indoor and outdoor signs≈≈

From indoor signs, such as facade signs,
floor maps, and menu boards, to
outdoor signs, such as wall signboards,
advertising pillars, and pole signs , we
can produce all kinds of signs.
Let us propose optimized plans
adapted to your size requirements and
local regulations, for restaurants and
other retail stores, and for either
street-level stores or commercial complexes.

Support for production of up to thousands of signs

We have experience in producing signs in high volumes (for more than 2,000 stores), for the operator of a nationwide chain after it changed its corporate identity.

* There are many photos we cannot show here for legal reasons, so please feel free to contact us for further details.

Order-made production through our national and international networks

Sanyo Koubo has the capability to produce
and install special, custom-made signs, in
collaboration with Japanese and overseas
partner companies.
Feel free to ask us about the applications
and conditions of the signs you need.

Here are some examples of custom signs we created on the request of our customers.

Shopping mall A: "We want a sign that is three-dimensional and thin; not flat."
Cafe B: "To decorate the interior, we want a sign that evokes a feeling of luxury."
Sportsware store C: "Can you make an LED sign that creates a neon-like effect?"

* There are many photos we cannot show here for legal reasons, so please feel free to contact us for further details.

Range of support for your drive-thru systems

We offer total support in a consistent system, from the design of drive-thru
lanes to the design, fabrication and installation of signs, and even the
deployment of an intercom system. That makes our seamless and flexible correspondence possible.
Even if your company has never operated a drive-thru or a curbside pickup,
please feel free to inquire with us.

Range of support for your drive-thru systems

Design of road markings for automobiles and graphic design for road surfaces
Ordering devices such as internally illuminated menu boards and digital signages
Communications systems such as intercoms, car sensors, and surveillance cameras
Related signs, car ports where to place order etc.

* There are many photos we cannot show here for legal reasons, so please feel free to contact us for further details.

To accent a store design or to convey information

Ticker signs are electronic noticeboards that display scrolling
textual information. In the past, these were often used as
signboards, but now they are used more for large displays and
advertising pillars, as well as in stores and showrooms for
displays and interior enhancement. An advantage of ticker
signs is that they can be used not just for decoration, but also
for conveying information.

* There are many photos we cannot show here for legal reasons, so please feel free to contact us for further details.

Presentation

VIDEO COMPOSITION

Presentations of plans using video

When evaluating the appearance of signs and the effectiveness of advertising,
it is important to realize that the location and height of installations
significantly influences customer attraction.
After engaging us, and in accordance with your preferences and budget, we can offer a video presentation that directly and vividly shows you how your finished installation will appear.

* There are many photos we cannot show here for legal reasons, so please feel free to contact us for further details.
COMPANY
Company name
Sanyo Koubo Co., Ltd.
Capital
¥40 million
First founded
January 1953
Established
November 1973
Representative
Eiji Morinaga
No. of employees
15
Head office

2393-2 Shinden, Kurashiki-shi,
Okayama 710-0038

Tel: 086-430-2323
Fax: 086-430-2201

Tokyo office

#503, 4-23-4 Takanawa,
Minato-ku, Tokyo 108-0074

Tel: 03-5793-8136
Fax: 03-5793-8137
Corporate history

January 1953Company founded under the name Sanyo Kanban.

January 1985Capital increased to ¥7.5 million.

August 1989Company restructured and renamed to Sanyo Koubo Co., Ltd.

November 1996Original style of CG-based presentations devised.

August 1998Milestone: Performed installations in all 47 prefectures of Japan.

July 2000New head office relocated to present location.

July 2002Capital increased to ¥40 million.

December 2002Work performed overseas for the first time (Los Angeles).

January 2004Tokyo office opened as a base for East Japan.

November 2004Use of LEDs for signs commenced.

May 2005Injection molding technology adopted for creating LED textual characters, an industry-first.

November 2005Sales of Lispa, thin fluorescent light panel with built-in ballast, commenced.

July 2006Lumi Factor Division for product development and sales set up.

March 2007Exhibitor at JAPAN SHOP 2007.

April 2007Development and sale of Lispop , a handheld electronic signboard, commenced.

February 2008With a change in BI, a turnkey order for signs, handling everything from product development to installation and management (approx. 2,300 stores), accepted.

February 2009Development and sale of LiPop touch, a touch-operated digital signage casing, commenced.

January 2010Development and sale of LeLine 4S, a fluorescent LED lamp exclusively for outdoor signboards, commenced.

March 2013First drive-thru system using digital signage developed.

May 2015An original video presentation style for sign visualization developed.

August 2020Development and sale of simplified drive-thru system package.
CONTACT
For any inquiries about work requests, please contact us by phone or form, as detailed below.